Montreal mountain bikers seek happier trailsThe lack of a designated area to practise the sport in this city has enthusiasts building illicit paths in the woods of Mount Royal
By Jake Bleiberg, Special To THE GAZETTE April 28, 2014
Unidentified mountain biker on Mount Royal in 2007. Photo taken
by Alexandre
Quintal. For Saturday Extra feature on illegal mountain biking trails on Mount Royal.
Photograph by: Alexandre Quintal, The Gazette
It's an annual rite of spring for mountain bikers keen to put rubber on dirt after the long winter: riding the illegal trails in the woods of Mount Royal.
Like the many unsanctioned footpaths that criss-cross the mountain, these three or four biking trails are primarily created through use — the repeated passage of riders along a similar line gradually wears a track roughly the width of a bicycle.
But these paths are also intentionally developed by a loosely organized group of bikers who maintain them and construct features such as jumps, bridges, and berms, sharply banked turns.
And as surely as the trails are rebuilt every spring, the city responds by doing its best to demolish them — flattening jumps and berms and filling in paths with new dirt.
"There has been mountain biking on Mount Royal for as long as the sport's been in Quebec," explained Francis Tétrault, Vélo Québec's mountain biking project manager. "Montreal has a lot of bikers who want a place to ride, and it's the only real, feasible option in the city."
The absence of a designated area for mountain biking in Montreal has resulted in an ongoing war of attrition between bikers and the city over the use of public park space. The city cites environmental degradation in banning the activity in all city parks.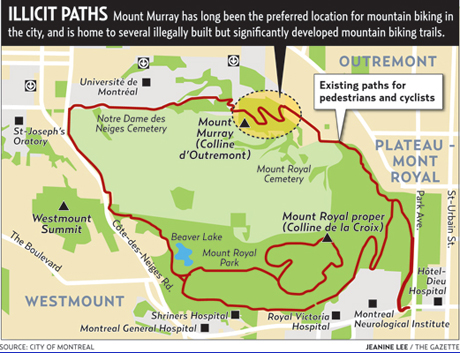 "I've been biking (on Mount Royal) since I was 14," said Vance Payne, a 41-year-old Notre-Dame-de-Grâce resident. He does not ride in Mount Royal Park itself, but rather on the trails constructed on Mount Murray, Mount Royal's third peak which is also known as the Colline d'Outremont. Payne said Mount Murray has long been the preferred location for mountain biking in the city, and is home to several illegally built but significantly developed cycling trails.
Mountain biking on Mount Royal is mostly — although not exclusively — kept to these trails, and the adjacent St-Jean-Baptiste woods.
Benjamin Adler, lead consultant at bicycleconsulting.com who has been living and riding in Montreal for 10 years, explained that he only rides on Mount Murray: "I don't ride on Mount Royal (Park), and no serious mountain bikers ride over there — there are too many people and too many cops."
Eric Léonard, Quebec's regional co-ordinator for the International Mountain Bicycling Association, says the existence of these illicit trails points to more than a wanton disregard for the rules. "It is important to understand why the trails are there. available domains If there are illegal trails being built, it is because there is a need not being met."
Riders on Mount Royal are a sign of the sport's popularity, and the lack of other places to practise it.
In 2008, Jérôme Pelland, then president of the now defunct Association pour le développement des sentiers de vélo de montagne au Québec, stated in an interview that Montreal has more than 50,000 mountain bikers who ride at least once a week.
Seventeen-year-old Montrealer Felix Leclerc is one of Quebec's top-ranked junior mountain bikers, and part of a group that builds trails on Mount Murray. "When our trails get destroyed, we just rebuild them, but better … all we want is to have beautiful trails to ride."
The conflict over mountain bikers' use of public space escalated in 2005, when the provincial government designated the mountain as a heritage site. This changed legal status brought Mount Murray and the St-Jean-Baptiste woods, which are owned by the Université de Montréal and the Notre-Dame-des-Neiges cemetery, under city supervision.
Before then, there were no police patrols of the area, recounted Gabrielle Korn, communications director for Les amis de la montagne, the citizen group that manages and preserves Mount Royal under the authority of the city.
This lack of enforcement meant that cyclists could ride there with relatively few consequences. However, when management was handed to the city in 2005, the area began to see more regular patrols.
Korn explained that Les amis' opposition to mountain biking is part of a broader environmental concern for Mount Royal: "Any off-trail activity is detrimental to the ecology … it prevents the indigenous species from growing in these areas and allows invasive species to come in and take over, it also fractures the habitat for wildlife, and this all happens very quickly."
Based on these worries, Les amis and the city began patrolling Mount Murray and the St-Jean-Baptiste woods for cyclists and dismantling unsanctioned mountain biking trails, an activity the city refers to as "re-naturalization." But this approach proved ineffective; trails were rebuilt and cyclists continued to ride.
In 2007, to better understand and respond to the persistence of mountain bikers on Mount Royal, Les amis conducted an extensive study of the issue. The study polled cyclists and other users of Mount Royal, reviewed existing scientific research on the ecological impact of mountain biking and examined how other North American cities have dealt with the issue.
The resulting 95-page report, available on Les amis' website, found that a sustainable solution to the "problem" of people riding on the mountain would require creating an alternative site where mountain bikers could practice their sport.
As Korn told The Gazette recently: "I think the cyclists are just going to keep coming back until they are offered an alternative that isn't too far away, because our study showed that most people who ride here come here by bike."
Les amis' report concludes by detailing alternative sites that could be developed for use by mountain bikers, all within a 10-kilometre radius of Mount Royal. They include parts of the St-Jacques escarpment near the Turcot Interchange, the former CEPSUM ski slope behind Université de Montréal, the undeveloped space between Complexe environnemental St-Michel and Papineau Ave. near Le Taz, and portions of the Complexe environnemental St-Michel.
Seven years after the publication of the report, the city has not taken any action on the proposals, and the cycle of the city demolishing trails and the bicyclists rebuilding them has continued. This spring, with the Chemin de ceinture du Mont Royal — a development project that will open the northern face of Mount Royal to more users through the construction of several wide gravel paths — nearly finished, the conflict over riding on the mountain is likely to heat up once again.
"There is going to be an increase in city patrols on the northern summit dismantling trails and enforcing the park regulations," said Korn. "The city is taking more interest in the area than it has in the past."
Tétrault of Vélo-Quebec said the city's strategy of demolishing trails is misguided. "Spending money that way is not sustainable; if year after year you put money into trying to correct something but it doesn't work, then maybe you need to start thinking differently."
While there is debate over whether mountain bikers should be given a designated space on Mount Royal, there is no question that the current cycle of trail-building and demolishing is taking an environmental toll.
Because they are illegal and not built with environmental concerns in mind, the trails do more ecological damage — through preventable water run-off — then they would if they were built to last. The mountain bikers who create the trails know that they will soon be torn down, so they don't put effort into making the trails sustainable.
Vélo-Quebec emphasized that a lot of effort has gone into developing environmentally-friendly trail-building techniques over the last two decades — such as ensuring that the trails are built at less than half the grade of the slope that they are cut into, which prevents erosive water run-off — but that there is no doubt that the illegal trails on Mount Murray are not up to those specifications.
"The trials now are not sustainable," said Tétrault, "they are built the way people want to ride them, not to prevent erosion."
And it's not just the city and environmental groups that take exception to the illegal paths.
Korn told The Gazette about a vigilante who has been dragging fallen trees and debris across the mountain biking trails to try to stop riders.
"A lot of people think it's us, but it has nothing to do with us," said Korn, "this type of self-policing is very negative, and an unfortunate response to the inactivity of the city on this issue … this is a person who needs to be dealt with by the police."
An alternative, legal space must be created for mountain biking, Korn said — but not on Mount Royal.
"Mountain biking is simply an activity that has been determined not to be compatible with our society's values, in terms of what we see for Mount Royal," she said.
Vélo-Quebec shares Les amis' concern with the damage done by illegal riding and improperly built trails and agrees with the notion of an alternative site, but also advocates for properly constructed and authorized trails on Mount Royal.
The city has yet to act on the suggestions of Les Amis's 2007 report on the mountain biking question.
Réal Ménard, the city's executive committee member responsible for sustainable development, the environment, and large parks and green spaces, was unable to respond to questions about the feasibility of the alternative sites proposed in the 2007 report.
Asked about the lack of local trails for mountain bikers, Ménard said mountain bikers have designated sites in such places as Rigaud and Bromont. However, as Korn pointed out, these sites are not a viable alternative since most cyclists ride to where they bike.
Tétrault said that the mountain biking community has lacked the organization and resources to effectively lobby the city. For his part, Ménard said the city needs to "create a working committee to continue the discussion with our partners about finding alternative sites for mountain biking in Montreal."
Striking the correct balance between the demands of mountain bikers and ecological concerns is difficult.
However, as the 2007 report points out, it is a balance that other cities, including Vancouver, New York, and Toronto, have already struck through cyclist education and proper building and managing of trials.
While there is disagreement about where Montreal's trails should be, but there is also broad accord that the current cycle of destroying and re-building non-sustainable trails is not the answer.
Korn and Tétrault emphasized that while increased policing might temporarily reduce riding on the mountain, until an alternative is presented, the riders are going to keep coming back.
"Surely we have the people in Montreal, the skilled people, who can come up with some fantastic alternatives," said Korn.
"My big question is whether the city is going to address the issue or not."